Hello friend,
Happy New Year 2017! This is a time to look forward to all the "signs, wonders and miracles" that Jesus wants us to demonstrate as proof that we have been made into "new creations". He wrote, "Therefore if anyone is in Christ, he is a new creation; the old has passed away, behold the new has come" (2 Cor. 5:17).
This is what happens upon receiving salvation and the baptism of the Holy Spirit (Mk.16:17-18). Regardless of how we feel or think, we are all sent out into the world guided by the Holy Spirit to be "witnesses" to others (Acts 1:8).The Holy Spirit gives us "power" to tell others what Jesus has done in our lives. This is called our "testimony" (Rev. 12:11).
If you have a question about the Holy Spirit, the Baptism of the Holy Spirit, Tongues, the Gifts of the Holy Spirit, a Bible question, or desire to receive the Baptism of the Holy Spirit with evidence of speaking in tongues, please send a message to Gordon.
If you have a prayer request (ie. healing, special need, financial need, prayer for family or friend), please contact us so we can pray for you. Also, please send us your praise reports as well so we can thank Jesus with you! (James 5:16).
Join us in making 2017 a bumper crop harvest of new people into the Kingdom of God!
---
Ministry Message for January 2017
---
As we begin the New Year of 2017, I look forward to another exciting year of God's witness by "signs, wonders and various miracles; and by the gifts of the Holy Spirit distributed according to his own will" (Heb. 2:4).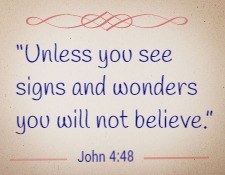 Today, we hear reports of many churches losing members, and closing their doors all across Canada, the USA, and other countries as well. "Why? Why? Why?" am I frequently asked.
The answer is easy to find in the New Testament. Paul wrote to the Galatians Church: "I am astonished that you are so quickly deserting him who called you in the grace of Christ and turning to a different gospel – not that there is another gospel, but there are some who trouble you and want to pervert the Gospel of Christ" (Gal. 1:6–7).
Paul continues his writing on the subject, and gives us the answer: "If anyone is preaching to you a gospel contrary to the one you received, let him be accursed" (Gal 1:9).
(Read Gordon's full message by clicking on the link below.)
---
<< Read Gordon's full Ministry Message for January >>
---
Ministry Articles for January 2017
---
People tend to feel most comfortable when they can put things into boxes. Attempting to categorize Christians as evangelical, charismatic, conservative, fundamentalist, liberal, or whatever serves to clarify the differences between Christians. Taking different corners within the general arena of Christianity - like Presbyterian, United, Baptist, Pentecostal etc. - is a very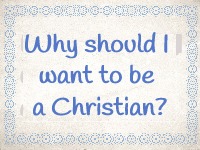 "natural" thing. However, that doesn't mean it's "normal" for people who have a relationship with Jesus.
Unfortunately, in the Christian realm, what happens is people not only separate themselves into boxes with sides and lids, but they dissect the Christian experience to the extent that they end up with an autopsy and a dead body of Christ.
This so-called "categorization" of Christians disqualifies them all from effective ministry to people who need their help and encouragement. We should not be surprised when people ask, "Why should I want to be a Christian? Those people can't even get along with each other!" When people see disunity in the church, the whole message of the Gospel suffers a loss of credibility.
Angels are God's unseen army. They are always on duty looking after His interests. A simple military structure, it would appear that God set up a network of angels to cover the whole earth,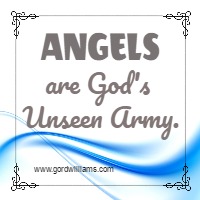 and probably the whole of creation. They have territorial assignments that include both cities and countries and are assigned to both individuals and to national ethnic groups, like the Jews.
All angels are under God's command. It is their responsibility to help serve and give direction from God to those who are heirs of salvation.

"Are they not ministering spirits sent forth to serve, for the sake
of those who are to obtain salvation? (Hebrews 1:14)
The Bible does not tell us how many angels there are. It indicates only that there are a lot of them; for instance, we are told that a million of them minister to God while a billion stood before His throne. There are more angels than we can count: thousands upon thousands...
Some may think that "waiting on the Holy Spirit" is old-fashioned. Allowing the Holy Spirit to move in our lives means a relationship - listening to Him and acting like a trained cheetah, on command. That is what it takes for both a husband and wife if they want to be in unity in every issue that arises in a marriage.
God brings people together as they submit to Him. It isn't about surrendering to one another - but to Jesus. He shows us God's plan for each situation, including children. They too, can love, forgive and encourage other children, and pray and minister for their parents.
Once we receive the Holy Spirit, He is with us all the time if we allow Him to be. The Holy Spirit takes up permanent residence and is always on call, twenty four - seven, so that when we need Him, He is always there...
Jesus tells us that when a person has been forgiven of sin at the time of salvation, he or she is made into a "new wine skin" into which the "new wine" of the Holy Spirit must be poured.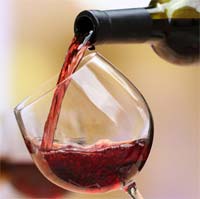 "Neither is new wine put into old wineskins; if it is, the skins burst, and the wine is spilled, and the skins are destroyed; but the new wine (the baptism of the Holy Spirit) is put into fresh wineskins, and so both are preserved" (Matthew 9:17).
"And no one after drinking old wine desires new; for he says, "The old is good" [Greek: chrestos: better] (Luke 5:39).
The Holy Spirit starts what I call a "Holy Fermemtation Process" that actually works in us, cleansing out the works of the flesh and replacing them with the fruit of the Holy Spirit. He brings us into a relationship with Jesus and the Heavenly Father where Jesus moves from being Saviour to being the LORD of our lives.
---
Ministry News for January 2017
---
Jesus Healed and Restored her Face. (Heb. 2:4)


When I was in a church in Curitiba, Brazil, a woman in her 30's came for prayer for the healing of her face, which was badly scarred from being burned. She was involved in spiritualism before she and her husband came to the church. As a result, she was possessed and depressed. Consequently, she poured gasoline over her head, lit a match, and set herself on fire. Fortunately, her husband was able to put out the fire and call for an ambulance. The pastor got rid of the demons, and she was in her right mind.

She had received the Baptism of the Holy Spirit at a Retreat where we prayed for her. She explained, "I have come to receive a healing miracle to have my face restored." She prayed along with me in her tongues language and fell to the floor. Her husband who had also received the Baptism of the Holy Spirit at the retreat prayed along with us for the restoration of her face. I instructed him to pray for her face every day in Portuguese and tongues for total restoration. Later, their pastor brought them to show me her healed and restored face.
Jesus healed her teeth and his eyes. (Mk. 19:26)


It was in 1981 that I became acquainted with Dr. Derek Duval, a dentist in Courtney, BC. We met as a result of Jesus performing a miracle by straightening out the teeth of an 11 year old girl in a church in Comox, British Columbia. She responded to my invitation for prayer that night and asked me through tears, "Do you think Jesus would fix my teeth?" Her top lip protruded badly with pronounced buck teeth. I said, "I don't know! But let's ask Him." She prayed with me as we asked Jesus for her miracle. The next evening, she asked me, "Do you want to see what Jesus did for me?" She opened her mouth and showed me her perfectly aligned, beautiful teeth!

About 25 years later, at a meeting in Collingwood, Ontario, a 10 year old girl and her friend, a 7 year old boy, responded to my invitation for prayer. The girl asked me, "Gordon, do you think that Jesus would heal my teeth?" She reminded me of the girl in Comox, so I said, "I prayed for a girl in British Columbia and Jesus fixed her teeth." She answered, "I know! I read your book!" We asked Jesus to fix her teeth as well. The boy said, "Gordon, do you think Jesus would fix my eyes? When I look at one person, I see double." We asked Jesus to fix his eyes as well.

At the end of the service, the two kids came back to see me. The girl said, "Gordon, do you want to see what Jesus did for me?" Her teeth were perfectly aligned and looked beautiful. The boy said, "Gordon, do you want to see what Jesus did for me? When I look at a person, I only see one and not two like before." Jesus gave us the miracles that we asked for!

Also Dr. Derek Duval has been competing in the "Iron Man's Race" for many years, ever since Jesus healed his back, which was injured while playing football in university and for the B.C. Lions. Praise Jesus, He is still in the Healing and Miracle Business!
(Read Gordon's full ministry report by clicking on the link below.)
---
The Normal Christian Walk.
A normal walk with Jesus involves experiencing daily, in our lives and churches, what we read about in the New Testament.
Orderly, acceptable worship still requires manifestation of the gifts of the Holy Spirit, just as it did in the model established for us in the 14th chapter of 1st Corinthians: "All of these must be done for the strengthening of the Church" (vs. 26). It is abnormal to expect anything less.
Throughout the centuries, people have tried to write off important aspects of the normal Christian life, calling the baptism and gifts of the Holy spirit a "passing phase" or "meaningless emotionalism."
Nevertheless, they remain. Without these charismatic elements, people slump back into the boredom and unfaithfulness of the abnormal Christian life.
Thus, the range of normalcy includes anything and everything that happened within the context of the ministry of Jesus and the New Testament apostles, and that includes some very unnatural, even bizarre, behaviour by worldly standards.
---
THANK YOU FOR YOUR PARTNERSHIP IN THE GOSPEL. (PHILIP. 1:5)


Again, thanks to your partnership, we have done more ministry than we did the years before!
Because of your faithful help, Gordon has the freedom to continue to accept invitations from any church in Canada, U.S.A, and other countries regardless of the size without charging fees. Thank you for your generosity, which has been transferred into many people receiving Salvation, Baptism of the Holy Spirit, healing, deliverance and answers to prayers more than any other year.
Your prayerful support allows Gordon the freedom to go where Jesus leads him. Your support allows us to provide Bibles, books and CD's to help people grow in their relationship with Jesus and to cooperate with the Holy Spirit.
And, your monthly support allows us to accept invitations to any church, small or large in any town or city in Canada, USA or any other country. Please continue to be a "cheerful giver" (2 Cor. 9:7) and help us increase our ministry. Please pray and ask Jesus what you should do to help.
To make a financial contribution to Gordon's ministry, donate by clicking below:
Copyright © 2016. The Gordon Williams Evangelistic Association. All rights reserved.
Click below to subscribe to our "Like a Rushing Mighty Wind" E-newsletter.