---
Partner with the GWEA's life changing Holy Spirit-led Ministry.
Personal message from us and our founder, Rev. Gordon Williams: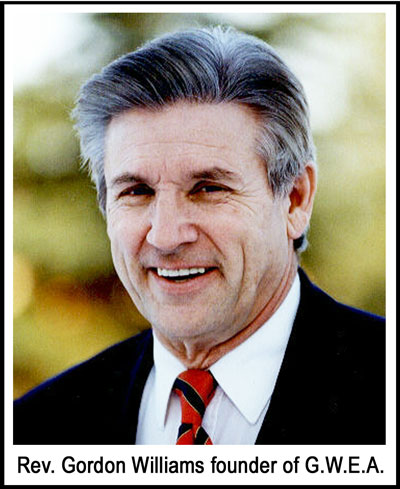 "Many, many thanks to all of you who have been Partners and Friends of our ministry throughout the years. Because you have faithfully supported us through your prayers and donations, we have seen more Salvations, Baptisms of the Holy Spirit, healings, deliverances and needs met than in any previous year.

Paul tells us, "God loves a cheerful giver" (2 Cor. 9:7). And because you have provided "seed to the sower", "...you will be enriched in every way for great generosity, which through us will produce thanksgiving to God". (2 Cor. 9:10-11)".
Yours in Jesus Christ,

---
What does the bible says about giving?
"Each of you should give what you have decided in your heart to give, not reluctantly or under compulsion, for God loves a cheerful giver. And God is able to bless you abundantly, so that in all things at all times, having all that you need, you will abound in every good work.
As it is written: 'They have freely scattered their gifts to the poor; their righteousness endures forever.'
Now he who supplies seed to the sower and bread for food will also supply and increase your store of seed and will enlarge the harvest of your righteousness. You will be enriched in every way so that you can be generous on every occasion, and through us your generosity will result in thanksgiving to God."
(2 Corinthians 9:7-11)
---
PLEASE COMPLETE THE GWEA DONATION FORM BELOW:
Please fill out the donation form below completely.
All donations can be made by online banking using Interac E-transfer, credit card (secured by PayPal), or by postal mail by cheque. When making a donation, please choose the "Payment Type" option you wish to use when completing the order form below. ie. PayPal, Cheque or Interac E-transfer. Donation Receipts in the following tax year are available upon choosing either option.
Cheques should be made out to the "Gordon Williams Evangelistic Assoc."
If making a payment using Interac E-transfer, use the following email when making your payment: donations@gordwilliams.com. Make your donation by completing the donation form below. Then proceed to your online banking account to make your online donation. E-transfer is a separate transaction to be done after the order form has been completed and submitted. No password is required.
Your online credit card payment is secured by PayPal.

You do not need an PayPal account to use your credit card.

Select your "Payment Type" below and then follow the onscreen instructions.
Note: All fields in red asterisks must be completed accurately in order to process your donation. Also when donating to GWEA's other ministries, (ie. Christmas donations to needy families;

Christian Children's Hospital in India, which does free surgery for the various physical problems; the Children's Mission Haiti which provides ministry and school classes, churches and meals for 1,000 plus children; and also,

Breakthrough Ministries (Rev. Maurie Blair), whose ministry is welcome in schools across Canada.
If you are donating to a specific GWEA ministry, please indicate how the ministry donation is to be used in the "Message to Gordon" section below.
(Please note: All donations sent by Interac E-transfer and by PayPal by account users not using the GWEA donation form below, please use our donations@gordwilliams.com email.)