GWEA MINISTRY RESOURCES: BOOKS
---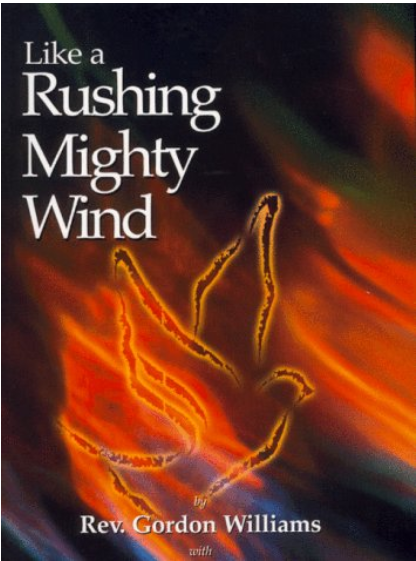 "LIKE A RUSHING MIGHTY WIND"
by Rev. Gordon Williams (with Diane Roblin-Lee) - 304 pages
Practical and important Christian teaching highlighting the Baptism of the Holy Spirit and the 9 Gifts of the Holy Spirit as outlined in the Book of Corinthians.
The results of Rev. Gordon Williams ministry have always been countless changed lives as people encounter Christ in His fullness.
"Dear Rev. Williams: I have read your book 'Like a Mighty Rushing Wind' and I was so taken by it, that I nearly read it in less than 24 hrs, taking notes as well! I can't tell you enough how this book has helped me understand a lot of things about our Lord Jesus. All my life I've be terrified of the Lord, and I'm only just starting to understand Him. I can't thank the Lord Jesus enough for your book... Thank you so much." P. Davis, Ontario, Canada
"I bought your book a year ago and this summer, God had me experience the rushing mighty wind on three different occasions so I would read your book in its entirety. He has told me to start a ministry for revival with supernatural power. Every church I attended he has pulled me out of, and I am learning how to do all this with Him being my leadership coach. Your book has answered many of my questions... He directed me to your book for help. Thank you and God bless!"
B. Pound, NJ
"I recently read Like a Rushing Mighty Wind, and SO appreciated your clear, straightforward teaching on the Baptism of the Holy Spirit. I have spoken in tongues for years, but learned so much about how to use this gift to grow my relationship with God." K. Maxwell, Corning, NY
"I have only gone part way through "Like a Rushing Mighty Wind" and am already excited about the working of the Gifts of the Holy Spirit..." D. Cherian, Wolverhampton, England. UK
"One of the best books I have read with solid Biblical answers about the gifts of the Spirit and Holy Spirit Baptism...exceptionally practical book". GoodReads.com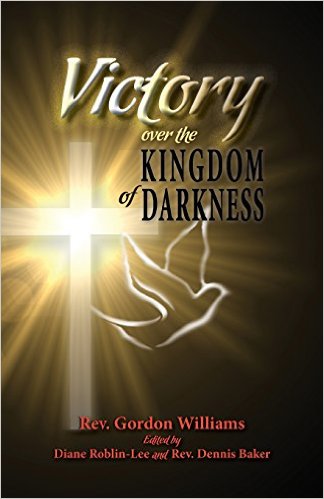 "VICTORY OVER THE KINGDOM OF DARKNESS"
by Gordon Williams (Author), Diane E. Roblin-Lee (Editor), Dennis Baker (Editor) - 418 pages
Rev. Gordon Williams' latest book "Victory over the Kingdom of Darkness", teaches how to overcome the kingdom of Darkness (ie. Satan/devil, demons, temptations, etc.) with confidence and understanding. It outlines in detail how to: recognize the source of your struggles; drive demonic interference from your home and church; recognize the authority of Jesus Christ, the Holy Spirit and our Heavenly Father; recognize the counterfeit works of spiritual enemies and false prophets; be skilled in spiritual warfare; and to bring balance and clarity to the subject of the devil, Satan and demons. With reference to Bible scriptures and Gordon's powerful testimonies, you will learn how to be victorious over the kingdom of Darkness. A conclusive and authoritative reference book that is a must for every seminary, church and home library.
"Your latest book 'Victory Over the Kingdom of Darkness'…is well researched and well written out. It is a wealth of knowledge and experience. I'd like to order four more copies to give away." Dr. George Duncan
"Just finished reading your new book, 'Victory over the Kingdom of Darkness.' Great teaching and marvelous insight into this whole situation with demons etc. I would readily recommend this book to anyone seeking a deeper understanding of the subject." K. Scott
"I was able to read your book 'Victory over the Kingdom of Darkness', and am finding it very awesome. I realize that I was shying away from it somewhat... as I thought I might find it 'scary'. I am comforted and amazed with your teaching, and with the reassurance of the power we have in and through Jesus Christ. Things are even clearer now, such as the importance in the choice of church we go to. I see the wisdom in staying home unless the church is moving in the power of the Holy Spirit." E. Baker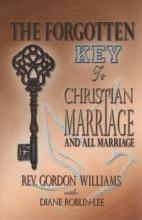 "THE FORGOTTEN KEY TO CHRISTIAN MARRIAGE"
by Rev. Gordon Williams (with Diane Roblin-Lee)
* Divorce proof your marriage.
* Learn God's key to a successful marriage.
* Why the divorce rate in the church is the same as in secular society and what to do about it.
* Learn about God's three-way communication system.
* Effective tools for building a happy marriage.
"I've been reading the book you wrote about marriage which my mom lent me and it is excellent. You are faithful to God's word and serving Him wholeheartedly while empowered by the Spirit. That is so inspiring. God bless you in your ministry."
C. Schaub, Sydenham, Ontario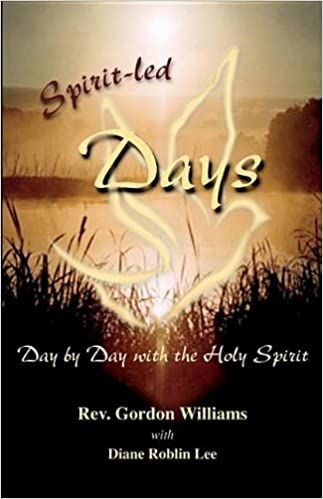 "SPIRIT-LED DAYS - DAY BY DAY WITH THE HOLY SPIRIT"
by Rev. Gordon Williams with (Diane Robin-Lee) - 383 pages
Rev. Gordon Williams has written one of the most inspirational, detailed and theologically sound studies on the Holy Spirit in years. Using a daily devotional format, the reader is led step-by-step, day-by-day, into a study of what the entire scriptures reveal about the person of the Holy Spirit.
This book has also been written to help the reader grow in intimate knowledge and daily fellowship with God. It includes a foreword by the late "Father Bob MacDougall, Food for Life, Television Ministry".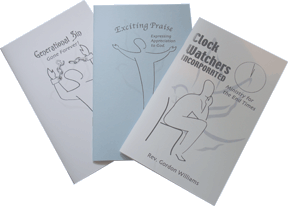 "GENERATIONAL SIN" Gone Forever by Rev. Gordon Williams
God no longer passes on generational sins and curses of the fathers. (59 pages)
"EXCITING PRAISE" Expressing Appreciation to God by Rev. Gordon Williams - A practical book teaching the spiritual exercises of praise and worship as outlined in the scriptures. (50 pages)
"CLOCK WATCHERS INCORPORATED" Ministry for End Times by Rev. Gordon Williams - "The end-times began on the Day of Pentecost. They started when the Holy Spirit filled 120 believers and ... " (70 pages)
REPORT: "Promises, Promises, Promises" by Rev. Gordon Williams
The Promise Keepers ministry examined scripturally.
REPORT: "Toronto Airport Vineyard" by Rev. Gordon Williams
Toronto Airport Christian Fellowship. Examined in three reports.
Copyright © 2021. The Gordon Williams Evangelistic Association. All rights reserved.