Easter - Jesus is Alive and Well
GWEA Monthly Message - April 2022
Easter is the constant reminder that Jesus died on the Cross of Calvary to pay for our sin so that He can be our Saviour (Jn. 19:30). He rose again from the dead so that He can be our Lord and God (Jn. 20:28). Jesus wants to baptize us with the Holy Spirit (Acts 2:4) and equip us with the Gifts of the Holy Spirit (Rom. 12:6-8; 1 Cor. 12:8-10) so that we can be His witnesses and do His ministry; directed by Him through the Power of the Holy Spirit (Jn. 10:27; Jn. 16:7-15).
Every time we meet together as a church, it is an ongoing remembrance that Jesus is alive and well. Certainly, there have been many people who would try to deny that Jesus arose from the dead and ascended into heaven such as the claim that the "tomb of Jesus has been found containing his bones". His ten disciples were "startled and frightened" when Jesus appeared to them. They thought that he was a "spirit" or a "ghost" (Lk. 24:37). He told them to "handle me, and see; for a spirit has not flesh and bones as you see that I have" (Lk. 24:40). He ate some fish to prove that He was Himself (Lk. 24:42). Thomas was with the 10 disciples when Jesus came to them. Later, when Jesus came a second time, he was able to physically touch Jesus. He finally believed it was really Him and so he proclaimed, this is "My Lord and my God!" (Jn. 20:28)
Paul, who did not believe in Jesus as his Saviour, was converted when Jesus met him on the Road to Damascus (Acts 9:1-19). Paul soon became an apostle. He tells us that Jesus had appeared to more than 500 people in his glorified body (1 Cor. 15:6) along with Peter, the twelve, to James and to himself. Jesus' real tomb is empty and none of His bones were left behind. He has risen from the dead (Matt. 28: 6; Jn. 20). In fact, He is using the originals until He comes back again (1 Cor. 15:51-57; 1 Thess. 4:14-17). "The Lord Jesus will change our lowly body to be like his glorious body" (1 Pet. 3:21).
Throughout history, Jesus has appeared to many people in his resurrection body revealing Himself as Saviour, Lord and God. I would not be in the ministry today if Jesus Himself, raised from the dead, had not come to visit me that night many years ago. He said to me, "I want you to come and work for me. I want you to become a fisher of men. And I will meet all of your needs according to my riches in glory." And He has been better than His word.
The proof of His resurrection is the forgiveness of our sins. This is acknowledged through water baptism, plus through the Baptism of the Holy Spirit which permits us to have a personal relationship with the Heavenly Father, Jesus, the Son, and the Holy Spirit (Jn. 3:5). The "signs following" (Mk. 16:17-18) confirm the preaching of the Gospel (Mk. 16:20). The proof that Jesus is alive and well is through His "Signs, Wonders and Miracles". Every day is an "Easter Day". If you do not have the assurance of your Salvation, or have never received the Baptism of the Holy Spirit (Acts 2:4; 8:14-17; 19:6) or need prayer for healing, or have other needs, we invite you to come to one of our zoom meetings and/or contact me for prayer.
---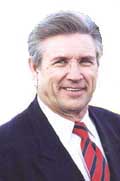 If you, and/or a family member, friend, co-worker, acquaintance, etc. want to receive the Baptism of the Holy Spirit, I invite you to come to one of our weekly "Holy Spirit" Zoom Meetings or contact me. With the Holy Spirit guiding us, we can be successful and succeed in doing everything that Jesus has planned for us. Happy Easter!
Copyright © 2022. The Gordon Williams Evangelistic Association. All rights reserved.