---
What does it mean to be Slain in the Spirit?
---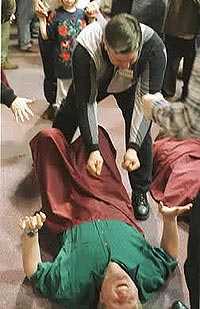 I prayed with him with the "laying on of hands" for healing and then, the Baptism of the Holy Spirit.
He immediately received, and then fell backwards onto the floor with the evidence of speaking in tongues (Mk.16:17–18).
When we fall backwards onto the floor under the power of the Holy Spirit, the Lord traps and captures us to get our full attention on him.
At that point, we are completely receptive to hearing His voice clearly, and we receive guidance and direction from the Holy Spirit.
"Then the word of the LORD came to them:" Precept after precept,... line after line,..., a little here, a little there," so they go stumbling backward, to be broken, snared, and captured" (Isaiah 28:13).
---
Copyright © 2017. The Gordon Williams Evangelistic Association. All rights reserved.