---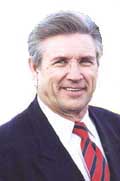 The key to serving Jesus Christ, regardless of our circumstances, is knowing Him and recognizing the pattern He established for us through His life, death and resurrection - and through His Word - a pattern of new life. The Holy Spirit holds that key. "Anyone who does not have the Spirit of Christ does not belong to Him" (Romans 8:9).
As we spend time with the Holy Spirit, our confidence in Jesus Christ and the hope of eternal life grows. He not only convicts us of our sin but also convinces us of our eternal life. As we follow the pattern of Paul's sound teaching, we can guard the truth that has been entrusted to us by the Holy Spirit.
Paul reminds us that the Holy Spirit dwells within us, so therefore, He is always close at hand; always there to reinforce the pattern or model of the new life we have in Jesus Christ. "Guard the truth that has been entrusted to you by the Holy Spirit who dwells within us" (2 Timothy 1:12-18).

The pattern demonstrates that we don't have to be ashamed of the Gospel, on the contrary, knowing what Jesus accomplished fills us with overflowing gratitude and esteem for it. Knowing Jesus in His death and resurrection makes us, like Paul, unashamed to suffer for Him. The pattern is clear; that which Satan means for evil, God will turn around and use for good. Amen!
SPIRIT-LED DAYS - DAY BY DAY WITH THE HOLY SPIRIT
Rev. Gordon Williams has written one of the most inspirational, detailed and theologically sound studies on the Holy Spirit in years. Using a daily devotional format, the reader is led step-by-step, day-by-day, into a study of what the entire scriptures reveal about the "person" of the Holy Spirit. This book has also been written to help the reader grow in intimate knowledge and daily fellowship with God.
Click here to order your copy.
---
The Old Testament was based on works of righteousness, where the New Testament is based on grace. "For by grace you have been saved through faith, and that not of yourselves; it is the gift of God, not of works, lest anyone should boast" (Eph. 2:8-9).
Paul treats the first covenant (Old Testament) as obsolete."And what is becoming obsolete and growing old is ready to vanish" (Heb. 8:13).
Jesus introduced the transition from the Old to the New Testament in the "the Seven Words from the Cross." Let us examine them here...
---
Have you received a miracle, healing, deliverance or answers to prayer from through the GWEA ministry that you would like to share to encourage others?
Each month we will share a testimony in our E-newsletter. Here is our featured praise report for this month:
Dear Gordon,
We hope you might remember us as it's been quite a few years! We are the couple that you married in an outdoor wedding on our farm 26 years ago this month. At that time we became a blended family of five, and within the next few years, the Lord blessed our union with two more children, Annamarie and Andrew.

Today these two youngest are now attending Western University. They love the Lord Jesus and have grown ever stronger in their faith, despite the anti-Christian agenda mixed in with today's education system.
Many years prior to our marriage and even before we had met, the Lord used you to play a significant spiritual role in both of our lives, with Deanna being baptized by the Holy Spirit under your ministry in November of 1979 in rural New Brunswick, and James receiving the the baptism of the Holy Spirit after you spoke at a Full Gospel Business Men's breakfast in London, Ontario, in March of 1986.

Just recently, we discovered the very message you had given that morning 31 years ago at the men's breakfast, on a cassette tape that had been tucked away among other "keepsakes." Our family sat down to listen to it and we were all so blessed and inspired by your message, that we have since played it to several other Christian friends as well. Our children are very interested in meeting you, and as a family we plan to attend one of your house meetings this coming summer.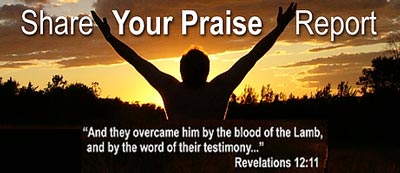 ---
Gordon's Holy Spirit ministry emphasizes the necessity of the 15 Grace Gifts of the Holy Spirit according to the Bible scriptures. His ministry helps people to receive Salvation, the Baptism in the Holy Spirit, spiritual gifts, healing, deliverance and other spiritual gifts from God. Also through his ministry, many have received miracles, healing, revival and renewal.
Don't miss out on reading Gordon's exciting ministry testimonies for April and be encouraged!
Sowing Seeds for the Kingdom of God.

Praying in Tongues takes away Heart Pain!

Man Claims He lost his Gift of Tongues.

The Holy Spirit made Him Tri-Lingual.

He was Healed so He could play Soccer!

Now He could Speak without any Difficulties!
Read Gordon's April Ministry Report Here >>
Gordon continues to receive invitations to minister and preach the gospel all around the world.
With your continued prayer and financial help, we pray
for
a "bumper-crop harvest" of people for 2018!
Gordon
does not charge fees to churches or ministries that invite him, regardless of their size. Like the Apostle Paul, he is led by the Holy Spirit, and asks for love offerings/gifts to allow him to continue to accept invitations anywhere in the world.
Please pray and continue to be a

"cheerful giver" (2 Cor. 9:7)

asking Jesus how you can contribute.
Throughout 2018, help us to increase the harvest of people of all ages into
the Kingdom of God!

---
Gordon's books are about the Spirit-led life, and give practical applications, truth, wisdom and insight into the "Baptism" of the Holy Spirit, the "15 Grace Gifts" of the Holy Spirit and the "Fruit" of the Spirit.
Gordon's books are full of essential teachings on the Holy Spirit.
Order yours today and "rightly divide the word of truth" (2 Tim. 2:15).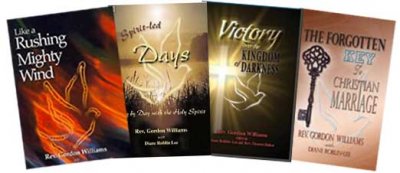 Buy 3 or more books and get 25% off!
Copyright © 2018. The Gordon Williams Evangelistic Association. All rights reserved.