GWEA Monthly Ministry Report
May 2020
"WHOEVER CALLS UPON THE NAME OF JESUS" (ACTS 2:21)
Once a linguistics professor who spoke and taught fourteen languages at the University of Kiev in Ukraine, responded to my invitation for prayer. She said, "I am an atheist. That means that I do not know whether there is a God or not; and you say that there is. Would you please introduce me to Him?" She prayed with me to ask Jesus to forgive her sin and to baptize her with the Holy Spirit." She spoke in tongues for about 10 minutes and then said to me, "I do not know what I am saying, but I do know a language structure when I hear one. Thank you for introducing me to our God."
"PRAYER IS THE KEY" (MATT. 21:22)
Jesus gave us an incredible promise. He told us that we could obtain His help to remove the unproductive things, or the mountainous problems in our lives through our prayers. He said, "And whatever you ask in prayer, you will receive, if you have faith" (Matt. 21:22). The Greek word for "faith" also means "to trust" or have "confidence". This means that any person who has a personal relationship with Jesus and who confesses like Paul did, "I know whom I have believed" (2 Tim. 1:12), has the right to ask Him for His help in anything. He is still in the miracle business! "Jesus is the same yesterday and today and forever" (Heb. 13:8).
That is the reason why we can pray for your needs, worries, troubles, concerns, etc. with confidence. Whether personal, family, friends, healing, church, financial, business, work or whatever the need is, nothing is too big or too small to bring to Jesus. Email your prayer requests and/or post to our "Facebook Prayer Group Page".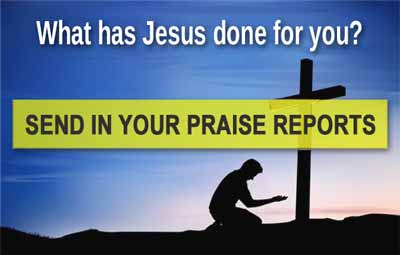 And when Jesus has met your needs, please let us know so we can praise Him along with you and "give thanks with a grateful heart!" We invite you to send in your praise reports and testimonies in a "Thank You Jesus Report." This way many others can be encouraged and be ministered to as well (Rev 12:11).
Email your praise reports online through our web page. Jesus still does, "signs, wonders and various miracles, and by gifts of the Holy Spirit distributed according to his own will" (Heb. 2:4). He wants to supply every need of yours according to His riches in glory in Christ Jesus" (Philip. 4:19).
"BLESSED ASSURANCE JESUS IS MINE" (2 PET. 1:1-10)
In Flesherton, Ontario, a 60 year old woman once said, "I don't have the assurance of my salvation. One day I am certain of it, and then the next day I am not. What can I do?" "Have you received the Baptism of the Holy Spirit yet?" I asked her. "No," she replied. I explained how the Holy Spirit is the down payment or guarantee of our Salvation (2 Cor. 1:22) and tongues is our daily reminder. I explained to her how she needed it so anytime she felt she didn't have the assurance, all she had to do was to pray in tongues and she would gain that reassurance. "Would you like to receive the Baptism of the Holy Spirit?" I asked. She agreed. We prayed and she began to speak in tongues, and gained the full assurance of her salvation (Eph. 1:13-14). It was just like the hymn: "Blessed assurance, Jesus is mine; O what a foretaste of glory divine; Heir of salvation, purchase of God; Born of His Spirit, washed in His blood…"

"RESIST THE DEVIL AND HE WILL FLEE" (JAS. 4:7)
Once after being a guest on "The Richard Syrett Radio Talk Show" on MOJO Radio Station 640 AM, in Toronto, Canada, the topic was "Deliverance Ministry". I had received a phone call from an 18 year old man who said, "I signed my life over to the devil". The devil had told him that he was going to die in three weeks, and that he could not get out of the vow. He was tormented every day, and his sister who was a church deaconess had tried to get him set free, but wasn't successful.
I explained to him that a deal with the devil had no legal authority over any person who has received Jesus Christ as his Saviour and was baptized with the Holy Spirit with the evidence of tongues (Mk. 16:17-18). He accepted what I had said, and allowed me to pray with him. I took authority over the devil and "rebuked" him (Jude 1:9) as we prayed together. The young man repented for his sin, received Jesus as his Saviour and then received the Baptism of the Holy Spirit. He burst into tongues as the Holy Spirit gave him utterance (Acts 2:4). Finally he was set free. A month later he called me to let me know that he was alive and well - thanks be to Jesus!
""LIKE A RUSHING MIGHTY WIND" AND THE NORMAL CHRISTIAN LIFE"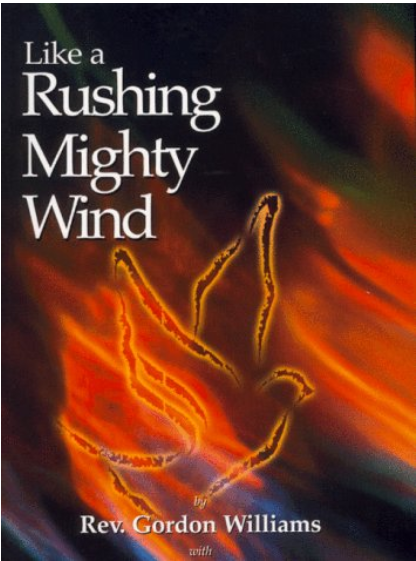 We continue to receive numerous phone calls from people in different parts of Canada who have read our book, "Like A Rushing Mighty Wind". They told us that because of how clear the explanations in the book are about the "Normal Christian Life", they too wanted to receive the Baptism of the Holy Spirit. Gordon prayed with each of them on the phone and they all received the Baptism of the Holy Spirit with the evidence of speaking in tongues. For all of them it was an unusual experience to speak in a language they had not learned before. This is typical for most, but after they got accustomed to praying in the Spirit (tongues) they discovered a new dimension of prayer and direction for their lives.
We receive calls every month from people who have read our book and who have followed its directions. The result is a life that reads like the New Testament and an exciting prayer life with the "signs following", and the "gifts of the Holy Spirit". If you don't have a copy, order one from us right now. Give a copy to family members, friends, co-workers, etc. so they too can have the spiritual emptiness replaced with the "New Wine of the Holy Spirit". You can order from us today for a donation of $20.00 each or 3 for $50.00 from our website: Order Gordon Williams' Books Tax and postage included.
"WE NEED CHEERFUL GIVING PARTNERS" (2 COR. 9:8)
Paul explained to those who supported his ministry, just as Gordon now explains to us: that when you help sow the seed where many people receive Salvation, Baptism of the Holy Spirit, equipped with the Gifts of the Holy Spirit, receive healing, see biblical signs, wonders and miracles done through ministry, then "God is able to provide you with every blessing in abundance; that you may always have enough of everything in abundance for every good work" (2 Cor. 9:8).
Evangelism is needed to establish, build and equip the saints for the work of ministry (Eph. 4:12). The fields are continuously ripe and ready for harvesting (Jn. 4:35). When you support Gordon, every person who receives ministry is credited to you in heaven. It takes Partners who care for the lost sheep and who will help them be found (Matt. 18:12). Please continue to pray and ask Jesus what you can and should do to help Gordon harvest people for the Kingdom of God.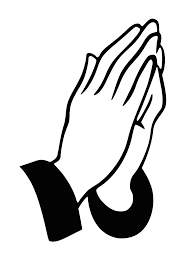 In supporting our ministry with your financial gifts, "God is able to bless you abundantly, so that in all things, at all times, having all that you need, you will abound in every good work." (2 Cor. 9:8). This means that every Salvation, every Baptism of the Holy Spirit, every healing, every miracle, every deliverance is credited to you because of your partnership with Gordon. Please continue to be a "cheerful giver" (2 Cor. 9:7) and prayerfully ask Jesus how you can contribute.