---
---
"Ministry Message" for September 2017
---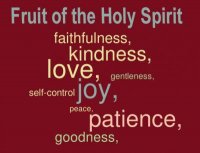 The "Fruit" and the "Gifts" of the Holy Spirit are Ministry Partners
In my ministry travels, I continue to hear people say that they want to receive the "Fruit of the Holy Spirit," but when I tell them they need to receive the "Gifts of the Holy Spirit" also, they hesitate and express their dissatisfaction.
The Fruit of the Holy Spirit is love, joy, peace, patience, kindness, goodness, faithfulness, gentleness, and self-control (Gal. 5:22-23).
The Gifts of the Holy Spirit are prophecy, service, teaching, exhortation, giving, aid, mercy (Rom. 12:6–8); the word of wisdom, word of knowledge, faith, gifts of healing, miracles, prophecy, discerning of spirits, various kinds of tongues languages, and the interpretation of tongues (languages) as outlined in 1st Corinthians, Chapter 12, verses 8 to 10.
---
"Ministry Report" for September 2017
---

The Holy Spirit is our Counselor, Comforter, and our Guide.
We need to hear the "Voice of the Holy Spirit" daily to live an exciting Christian life.
Equipping the Saints for Ministry
in the Power of the Holy Spirit.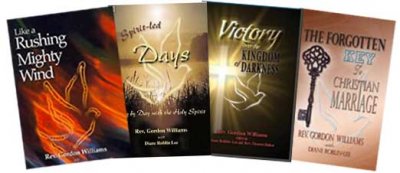 Buy 3 or more books and get 25% off!
Copyright © 2017. The Gordon Williams Evangelistic Association. All rights reserved.