---
---
"Ministry Message" for November 2017
---
Throughout the centuries churches have experienced rebellion, and it's even more evident today. People continue to close their eyes and ears; and they turn away in disbelief from the scriptures. Jesus tells us,
"...unless one is born of water, and the (Holy) Spirit, he cannot enter the Kingdom of God" (Jn. 3:5).
Jesus talks of a "full salvation package," which requires all believers to be born of the two component parts: born of the water, and born of the Spirit. Both take place on separate occasions. John the Baptist said it clearly, "I baptize you with water for repentance of sin. But after me comes one (Jesus) who is more powerful than I, whose sandals I am not worthy to carry. He will baptize you with the Holy Spirit and fire" (Matt. 3:11).
---
"Ministry Report" for November 2017
---
While I was in Saskatoon, Saskatchewan, I went for breakfast with a young man in his 30's who was what I called a perpetual student since he had studied at four Bible Colleges and two Seminaries.
From our conversations, I learned that he had a problem: he was afraid of the Baptism of the Holy Spirit and the evidence of speaking in tongues (Acts 2:4). Being a bible student, I pointed out that Jesus Himself said that it was a necessary part of being a born-again Christian. And also that our tongues languages are proof that we have the Holy Spirit living inside of us.
He rebutted, "I have studied under many godly men who do not believe that the Baptism of the Holy Spirit is necessary to be a Christian. "They may be godly men," I explained, "but they are not 'spiritual men' since they refuse to believe what Jesus describes as a normal Christian - born again with the signs following (Mk. 16:17–18)....
---
We are the Distributors of the "New Wine of the Holy Spirit."
When Jesus, His mother and His disciples were guests at the wedding reception in Cana, Galilee, a great embarrassment occurred when they ran out of wine to serve the people with. Jesus' mother, Mary, said unto Jesus, "They have no wine..." And then His mother looked to the servants and told them, "Do whatever he tells you to do..."
Many people overlook this parable thinking that it is only about drinking wine. But Jesus is also talking about another kind of wine – the wine of the Holy Spirit. As new born babies, we are born
into this world as empty wine skins; and God had purposed each one of us to be filled with the wine of the Holy Spirit (Lk. 5:37; Matt. 9:17).
John came to baptise with water, but Jesus came to baptise "with the Holy Spirit and fire" (Matt. 3:11). When we drink of the new wine of the Holy Spirit (Matt 3:11), He prepares us to "go out into the world to preach the gospel..." (Mk 16:15).
Jesus gave the same commandment to each of the seven churches: "He who has an ear, let him (her) hear what the Spirit says to the churches (Rev. 2:7,11,17,29; 3:6, 13, 22). Jesus assures us we will do even "greater works" than He; meaning not bigger, but much more of the same ministry that He did (Jn. 14:12-13).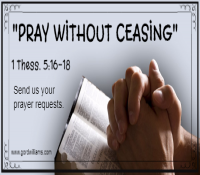 Under the guidance of the Holy Spirit, we can have the confidence and boldness to do the same type of ministry that Jesus did. Ministry like offering unbelievers prayer for forgiveness of their sin; laying hands on the sick and praying for their healing; praying for people to receive the Baptism of the Holy Spirit and the Gifts of the Holy Spirit with the "signs, wonders and miracles" following (Mk. 16–17; Rom. 12:6–8;1 Cor. 12:8–12).
Can you imagine that? By faithfully praying with people for the Baptism of the Holy Spirit, we are the distributors of Jesus' New Wine - the Holy Spirit! Amen!
Gordon receives invitations from all around the world to minister, and because of your faithfulness to financially contribute to our ministry, he does not charge fees to these churches or ministries that invite him, regardless of their size. Like the Apostle Paul, Gordon is led by the Holy Spirit, and asks for a love offering gift to allow him to continue to accept invitations anywhere in the world.
All offerings and gifts are income tax deductible. Income tax receipts are sent out during February 2018. Help us to increase the harvest of people of all ages into the Kingdom of God (Jn. 4:35).
Please pray and be a

"cheerful giver" (2 Cor. 9:7),

asking Jesus how you can contribute! Thank you and may God continue to bless you and your family.

The Baptism of the Holy Spirit is essential to live a life of Victory in Jesus.
Once you have received the "New Wine" of the Holy Spirit,
you will have the power to overcome the enemy.
Gordon's books are full of essential teachings on the Holy Spirit.
Order yours today and "rightly divide the word of truth" (2 Tim. 2:15).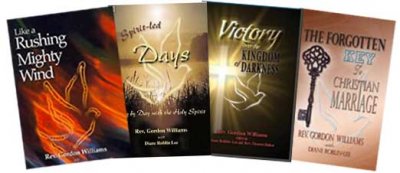 Buy 3 or more books and get 25% off!
Copyright © 2017. The Gordon Williams Evangelistic Association. All rights reserved.