"Ministry Message" for August 2017
---
Do not Harden your Heart: Listen to the Voice of the Holy Spirit.
There is "an appalling and horrible thing that has happened in the land" (Jer. 5:30-31) This is God's message to His people, and He is clearly warning us that we are in big trouble with Him, as was Israel!

"Therefore, as the Holy Spirit says, 'Today, when you hear his voice, do not harden your hearts as in the rebellion, on the day of testing in the wilderness, where your fathers put me to the test and saw my works for forty years. Therefore, I was provoked with that generation, and said, 'They always go astray in their hearts; they have known my ways.' As I swore in my wrath, 'They shall never enter my rest'" (Heb. 3:7–11).

Israel was deceived by their "comfort doctrines, false prophets and hardened hearts." With "itching ears," they no longer feared God; they turned towards false teaching that fed their own evil desires and religious doctrines. People with "stubborn and rebellious hearts" (Jer. 5:23), "knew no bounds in deeds of wickedness; and they judged not with justice (Jer. 5:28).
---
"Ministry Report" for August 2017
---
"I will give you a new heart and put a new spirit within you; and I will remove the heart of stone from your flesh and give you a heart of flesh. "I will put My Spirit within you and cause you to walk in My statutes, and you will be careful to observe My ordinances" (Ezekiel 36:26-28).
A woman came to our Welland House Church meeting in Fonthill, Ontario and asked, "How can I be sure that when I pray I will receive the Baptism of the Holy Spirit?"
I quoted her Luke 11:13 in the bible:
"If you, who are evil know how to give good gifts to your children, how much more will the heavenly Father give the Holy Spirit to those who ask Him?"
She understood the parable and invited me to pray for her. We prayed together believing in faith for the baptism of the Holy Spirit.
She received Jesus' guarantee, and began speaking in tongues effortlessly as the Holy Spirit enabled her (Acts 2:4).
When we become right before Jesus (Matt. 6:33); believe in faith and pray, He responds quickly and doesn't hold back (Matt. 7:7).
"The eyes of the Lord are on the righteous, and his ears are attentive to their cry" (Psalm 34:15).
---
Looking for Cheerful, Giving Partners (2 Cor. 9:8)
Evangelism is needed to establish, build and equip the saints for the work of ministry (Eph. 4:12). Jesus proclaims that the fields are continuously ripe and ready for harvesting (Jn. 4:35).
Rev. Gordon Williams follows the example of Apostle Paul, who revealed to his ministry supporters that all credit and thanks came from Jesus when they sowed the seeds of the Gospel, or when they prayed and people were healed, saved, baptized with the Holy Spirit and/or equipped with the Gifts of the Holy Spirit.
When you do the Ministry of Jesus Christ in the power of the Holy Spirit, "God is able to provide you with every blessing in abundance, so that you will always have enough of everything for every good work" (2 Cor. 9:8).
When you support GWEA's Holy Spirit ministry, every person that receives ministry, is credited to you in Heaven. It takes Ministry Partners like you to foster miracles, and to care for the lost sheep and help them to be found (Matt. 18:12).
Gordon continues to receive many invitations, and because of your help, he does not charge fees to the churches or ministries that invite him, regardless of their size. Like the Apostle Paul, we urge you to send a love offering or financial gift to allow Gordon to continue to accept invitations as he is led by the Holy Spirit, here in Canada, the USA, or in other countries.
Please pray and continue to be a "cheerful giver" (2 Cor. 9:7), asking Jesus how you can contribute.
All offerings and gifts are income tax deductible. Income tax receipts are sent out during February 2018.
Throughout 2017, help us to increase the harvest of people of all ages into the Kingdom of God (Jn. 4:35).

The Holy Spirit is our Counselor, Comforter, and our Guide.
We need to hear the "Voice of the Holy Spirit" daily to live an exciting Christian life.
Equipping the Saints for Ministry
in the Power of the Holy Spirit.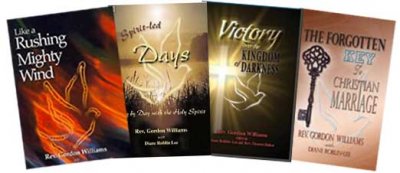 Buy 3 or more books and get 25% off!
Copyright © 2017. The Gordon Williams Evangelistic Association. All rights reserved.
Click below to subscribe to our "Like a Rushing Mighty Wind" E-newsletter.