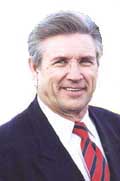 "PRAYER IS THE MOST EXCITING PART OF BEING A CHRISTIAN" (JN. 14:13 - 14)
A woman who was always complaining that God never seemed to answer prayer the way that she expected called me. She was surprised that Jesus did always meet her needs but not the way she expected Him to do so. When she finally discovered that God had already told us in the Scriptures, "For my thoughts are not your thoughts, neither are your ways my ways" (Is. 55:8), that it was a waste of words to try to tell Him how He should answer prayer.
But He always met her needs but in ways that she did not expect. She learned as we all must learn is this, "Don't try tell Him how to answer prayer." If you do, He will never take your advice. So, simply tell Jesus what the problem is and then stand back and see how He does it. Then, you will never be disappointed but you will be excited to see how creative He is and how much He loves us.

And so, this is the reason why we can invite you to send your needs: personal, family, acquaintances, friends for salvation, Baptism of the Holy Spirit, healing, church needs to us, so we can pray for you and your requests and contact me. Please let us know when Jesus has met your needs (Philip. 4:19) so we can also thank Him along with you.
"YOUR PARTNERSHIP RESULTS IN SIGNS, WONDERS & MIRACLES" (HEB. 2: 4)
Gordon, wants you to always remember that your partnership in the Gospel is confirmed by the "signs, wonders and miracles" Jesus Himself knew that the preaching of the Gospel had to be confirmed by the "Signs" (Mk. 16:20). He said to the man whose son he was asked to heal, "Unless you see signs and wonders you will not believe" (Jn. 4:48), Your faithfulness is proven by the results that we see in our ministry. Also, please continue to pray for Gordon's healing of the blood clot that developed in his "left leg" due to the recent car accident which has restricted his travelling. In spite of everything, we also seeing an increase of the number of people receiving ministry with your prayerful help.
Your monthly support allows Gordon to sow seed in any church, small or large in any town city in Canada, the USA or any other country. Continue to be a "cheerful giver" and help Gord sow the seed to be harvested into the Kingdom of God. Please pray and ask Jesus what you should do and "do whatever he tells you." (Jn. 2:5) Income Tax Receipts are available upon request. Thank you for helping Gordon to increase the harvest for 2015!
"FOR IF THE SON SETS YOU FREE, YOU WILL BE FREE INDEED" (JN. 8:36)
At a meeting in Woodslea ON, a woman brought her 5 year old daughter for prayer. She explained, "My daughter has terrible nightmares. She screams hysterically and runs around the house but when wakened up she can't remember what happened." I asked the girl, "Have you invited Jesus to come into your heart?" Shyly, with several fingers in her mouth, she answered, "Yes!" I quietly commanded any evil spirit to leave her and to go to the "Abyss" (Lk. 8: 31). We asked Jesus to take away the nightmares and Baptize her with the Holy Spirit and she received tongues (Acts 2: 4).
"WE WANT ALL THAT JESUS HAS FOR US" (ACTS 1:8)
At a meeting at Wasaga Beach ON, a young couple came for prayer and when I asked them what they would like to have prayer for, the man said, "We want all that Jesus has for us." I asked, "Have you received the Baptism of the Holy Spirit yet?" He answered, "I don't know if we are ready for that!" I explained that if they wanted everything that Jesus had for them, it was the next step.' So they agreed. As they prayed with me, they both began to speak in tongues. The man fell to the floor praying in Spirit for about 20 minutes and while his wife remained standing and I was able to give them the interpretation of their tongues messages which was encouragement to follow Jesus' Plans for them and their family (Jn. 16:7–15).
"MINISTRY IS WHERE YOU FIND IT" (ACTS 10:17–19)
When Jesus started His ministry, He did it everyplace He went: on the seashore, on the water, on the road side, in His own house (Mk. 2: 1–12), on a mountain (Matt. 5–7), in the synagogue and in the temple. Today we must be available to witness to people at any time in any place. Recently, I received a call from a young man in his 20's who lives about 20 minutes from Kitchener ON. Since I was getting ready to go to Kitchener, I agreed to meet him in a Tim Horton's restaurant there. He had some questions about the Baptism of the Holy Spirit. We talked and we prayed and he received the Baptism of the Holy Spirit and easily began to speak in speak in his new tongues language (Acts 8: 14). God's timing is always perfect! (Rom. 8:28).
"GOOD SEED ALWAYS PRODUCES GOOD WHEAT" (MATT. 13:8)
I recently received an Email from a friend who was an elder in a church that I pastored in Englishtown, NJ, 45 years ago. He is presently living in Atlanta, GA. I called him on the telephone and he explained that there was "something missing" in his relationship with Jesus Christ. I explained that he had received the first part of being Born Again which was salvation and now he needed the second part which was the Baptism of Jesus which was the Baptism of the Holy Spirit (Jn. 3: 3, 5, 7). He agreed and we prayed and he received the Baptism of the Holy Spirit with the evidence of speaking in his Holy Spirit language (Acts 1:8; 2:4) and the "signs following" (Mk. 15:16–17).
"UNEXPECTED HEALING" (MATT. 7: 7)
At a meeting in Athabasca, AB, a young woman in her 30's explained, "I need prayer for depression." I suggested that she also needed to receive the Baptism of the Holy Spirit so He could heal her. She agreed. As we prayed with me, she started to speak in tongues and began to laugh intermittently, as she fell to the floor. She exclaimed, "The depression is gone! It's gone!"
"GOD'S WAYS ARE NOT OUR WAYS" (IS. 55:8)
Another woman who said, "I'm 35 years old. I need healing for my back. I asked her, "Would you also like to receive the Baptism of the Holy Spirit?" She agreed but said, "I don't want to speak in tongues." Then, as she prayed with me to receive the Holy Spirit, without any encouragement she easily began to speak in her Holy Spirit given tongues language as she fell to the floor (Is. 28: 11 - 14). When she stood up she remarked, "My back is healed!"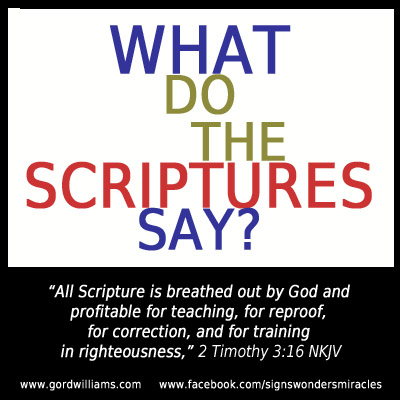 "SURPRISING MINISTRY" (PHILIP. 4: 19)
In Ecuador at a meeting for pastors and their wives and their families, a Pastor in his 60's asked for prayer for healing of both of his knees. As we prayed, he fell to the floor speaking in tongues. When he stood up, he started jumping up and down and up and down thanking Jesus for healing him. He said, "Look! Look my knees are healed. My knees are healed!" I noticed that when we arrived at the meeting, one pastor's wife was very unhappy and she never smiled. Her two daughters both received the Baptism of the Holy Spirit and were speaking in tongues. She reluctantly asked for prayer to be baptized with the Holy Spirit. As she began to speak in tongues, she broke into a smile as she was aglow with the Holy Spirit (Rom. 12:11).
"THE GIFT OF SPEAKING IN A NEW TONGUES LANGUAGE IS A GOOD GIFT" (LK. 11: 13)
At a meeting in Richmond, BC, a man wearing a Boy Scout Leader's uniform said, "I have a problem with your statement that tongues is for every Christian. Did Paul not say that all do not speak in tongues in 1 Corinthians 13: 30?" I agreed but explained to him that Paul said that because not everybody in a church chooses to receive the Baptism of the Holy Spirit. But Jesus told us that, "These signs will follow those who believe: in my name they will cast out demons; they will speak in new tongues" (Mk. 16:17). He was not saying some of you can and some of you cannot. The Gift of speaking in tongues is God's communication system. The signs are for "whosoever" asks (Acts 2: 21). This man, thinking that he was not worthy, had excluded himself out from receiving this wonderful Gift of the Holy Spirt. So, I asked him if he would like to receive the Gift of speaking in tongues. "Oh yes! Please pray with me. We prayed together as I laid hands on him and the Holy Spirit filled him and he began to easily speak in tongues.