POSTED |
September 3, 2021 - Rev. Gordon Williams
There is only One Festival that we are to Celebrate.
The Lord's Supper
In that He says, A new covenant, 'He has made the first obsolete. Now what is becoming obsolete and growing old is ready to vanish away'. (Heb. 8:7–13)
Some things are brought into the New Covenant from the Old Testament. These Old Covenant festivals are not to be celebrated today. Jesus said, "The law and the prophets were until John; since then the good news of the kingdom of God is preached, and every one enters it violently (Lk.16:16). If it's not in the New Testament, it's not from God. Listen to what God (Yahweh) said:
"I hate, despise your feasts, and I take no delight in your solemn assemblies. Even though you offer me your burnt offerings and cereal offerings, I will not accept them, and the peace offerings of your fated beasts I will not look upon them. Take away from me the noise of your songs; to the melody of your harps I will not listen. But let justice roll down like waters and righteousness like an ever flowing stream" (Amos 5:21–24).
There is only "one festival" that we are commanded by Jesus to celebrate as often as we meet together, called the "Lord's Supper". We are to eat the bread and drink the wine in remembrance of Jesus' death until he returns:
"For I received from the Lord that which I also delivered to you: that the Lord Jesus on the same night in which He was betrayed took bread; and when He had given thanks, He broke it and said, "Take, eat; this is My body which is broken for you; do this in remembrance of Me." In the same manner He also took the cup after supper, saying, "This cup is the new covenant in My blood. This do, as often as you drink it, in remembrance of Me." (1 Cor. 11:23–26; Matt. 26: 26-29)
For as often as you eat this bread and drink this cup, you proclaim the Lord's death till He comes. As Apostle Paul warned, "Don't let anyone bewitch you!" (Gal. 3:1).
---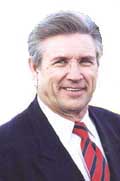 If you, your family and/or friends would like to receive either Salvation, the Baptism of the Holy Spirit, a Gift of the Holy Spirit, Healing, Deliverance, etc., I invite you come to one of our house meetings or contact me. May God bless you richly with His Spirit!
Yours in Jesus,

Copyright © 2021. The Gordon Williams Evangelistic Association. All rights reserved.