POSTED |
Rev. Gordon Williams
Why Should I Want to be a Christian?
Are Church Denominations Normal?
People tend to feel most comfortable when they can put things into boxes. Attempting to categorize Christians as evangelical, charismatic, conservative, fundamentalist, liberal, or whatever serves to clarify the differences between Christians. Taking different corners within the general arena of Christianity - like Presbyterian, United, Baptist, Pentecostal etc. - is a very "natural" thing. However, that doesn't mean it's "normal" for people who have a relationship with Jesus.
Unfortunately, in the Christian realm, what happens is people not only separate themselves into boxes with sides and lids, but they dissect the Christian experience to the extent that they end up with an autopsy and a dead body of Christ.
This so-called "categorization" of Christians disqualifies them all from effective ministry to people who need their help and encouragement. We should not be surprised when people ask, "Why should I want to be a Christian? Those people can't even get along with each other!" When people see disunity in the church, the whole message of the Gospel suffers a loss of credibility.
Paul's example is given as a guide for us. He said, "I have become all things to all men, that I might by all means same some" (1st Corinthians 9:22).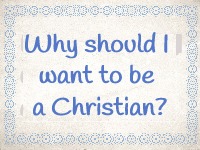 People need to see that Christians do not reject those who differ from them in the way they doth their i's or cross their t's. The body of Christ needs to be seen as a bonding together of individuals who love and respect each other enough to allow each person to grow in Jesus Christ as he and she is led by the Holy spirit.
True unity happens through the manifestation of the gifts of the Holy spirit. God's word is confirmed though "sign that accompany it" (Mark 16:20). It is interesting to see that where ever dynamic moves of God with signs and wonders take place, denominational barriers break down, and people work in unity though the bond of love.
Denominations confuse the issue for non believers and cloud the real message of salvation. Jesus decreed, "This is my commandment, that you love one another as I have loved you" (John 15:12).
To his Father, He prayed, "I do not pray for these only, but also for those who believe in Me though their work, that they may all be one; even as Thou, Father air in Me, and I in Thee, that they also may be one in Us, so that the world may believe Thou has sent Me. The glory with Thou hast given Me I have given them, that they may be one even as We are One; I in them and Thou in Me, that they many become perfectly one, so that the world may know that Thou hast sent Me and hast loved them even as Thou has loved Me" (John 17:20-23).
"What about doctrine?" some growl. "Without denominations, people would have to sacrifice their beliefs for a bowl of hash."
The doctrine of the Holy Spirit is not contrary to any authentic denominational statement of belief. It is simply contrary to the traditions of man, which Jesus Warned make void the word of God (Mark 7:13) and have often befuddled original intents. The doctrine of the Holy Spirit is central to the doctrine of the Trinity, a cornerstone of every major denomination.
It takes the dynamite, miracle power of the Holy Spirit to convince people that there is a God who loves them and who sent His Son to die for them. "Not by might, nor by power, but by my Spirit, says the Lord of Hosts" (Zechariah 4:6).
Only through the cooperation with the Holy Spirit and with each other can we reach this lost, dying and hurting world for Jesus Christ - the mission of "normal" Christianity.
---
LIKE A MIGHTY RUSHING WIND
Practical and important Christian teaching highlighting the Baptism of the Holy Spirit and the 9 Gifts of the Holy Spirit as outlined in the Book of Corinthians. This is a book with solid answers to the deepest spiritual questions. One of the most comprehensive works on the ministry of the Holy Spirit, this is a practical guide to finding the ultimate fulfillment in the Christian life.
Click here to order your copy.
Copyright © 2016. The Gordon Williams Evangelistic Association. All rights reserved.