POSTED |
January 25, 2016 - Rev. Gordon Williams
Victory Over the Kingdom of Darkness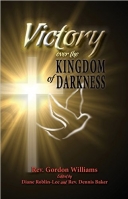 On December 27th, 2015, I was a guest on the Richard Syrett Show. "The Paranormal Show", in Toronto Ontario. It was an interview to discuss "Deliverance Ministry" and to introduce our newest book, "Victory Over the Kingdom of Darkness".
Since then, we have had overwhelming results! We have been receiving many calls from all over Canada and the USA. Many people are identifying their paranormal experiences with spiritual warfare are seeking help for their afflictions. Because of Jesus, we can overcome the "Kingdom of Darkness". My latest book outlines how personal victory can be won.
If you would like to receive your copy of our new book, "Victory over the Kingdom of Darkness," you can click on this link and order securely from our website.
Order copies for a donation for family and/or friends and get a 25% discount!