POSTED |
June 3, 2016 - Rev. Gord Williams
The Greatest Miracle of All (Jn 3:3,5,7)
Receive the Full Salvation Package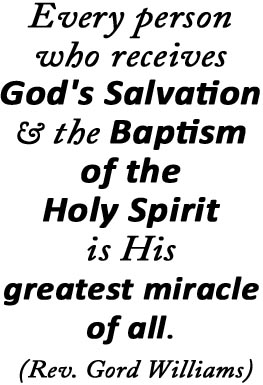 At a meeting in the home of Dr. Ed and Marilyn Mol, in Athabasca AB, a man asked me, without knowing that it was a question asked by 3 men (Matt. 19:16; Mk. 10:17; Lk. 18:18) in the New Testament. It was, "What must I do to have Eternal Life?"
I explained that it is necessary to ask Jesus to forgive all your sin and receive the Baptism of the Holy Spirit and receive the proof of the what is called "Signs, Wonders and Miracles" (Mk. 16:16–17).
The first one "sign" is God's "Gift of Speaking in tongues". He agreed and we prayed with him and he received the Holy Spirit. He now has the guarantee of Eternal Life!
"
These miraculous signs will accompany those who believe: They will cast out demons in my name, and they will speak in new languages..." (Mk. 16:17 NLT)
"...that everyone who believes in Him may have eternal life." (John 3:15)
Later he asked me, "What is the greatest miracle of Jesus?" I responded, "God's greatest miracle is you! You are a "demonstration of the Spirit and of Power" (1 Cor. 2:4). Paul wrote, "But if the Spirit of Him who raised Jesus from the dead dwells in you; he who raised Christ Jesus from the dead will give life to your mortal bodies also through his Spirit which dwells in you" (Rom. 8:11). Every person who receives God's Salvation and the Baptism of the Holy Spirit, (the full Salvation package) is His "greatest miracle of all".
Visit this link for more exciting GWEA Ministry Articles.
---
If you or your family and friends have not yet received and would like to receive either Salvation, the Baptism of the Holy Spirit, a Gift of the Holy Spirit, Healing, Deliverance, etc., I invite you come to one of our house meetings or contact me.
Yours in Jesus,
Rev. Gordon Williams
c. 2016, Gordon Williams Evangelistic Assoc.