POSTED |
Rev. Gordon Williams
Why Do We Need The Baptism In The Holy Spirit?
The Power of the Holy Spirit
We need God's power for effective service and ministry towards others - especially those who are called to be Evangelists, Pastors, Christian teachers and leaders.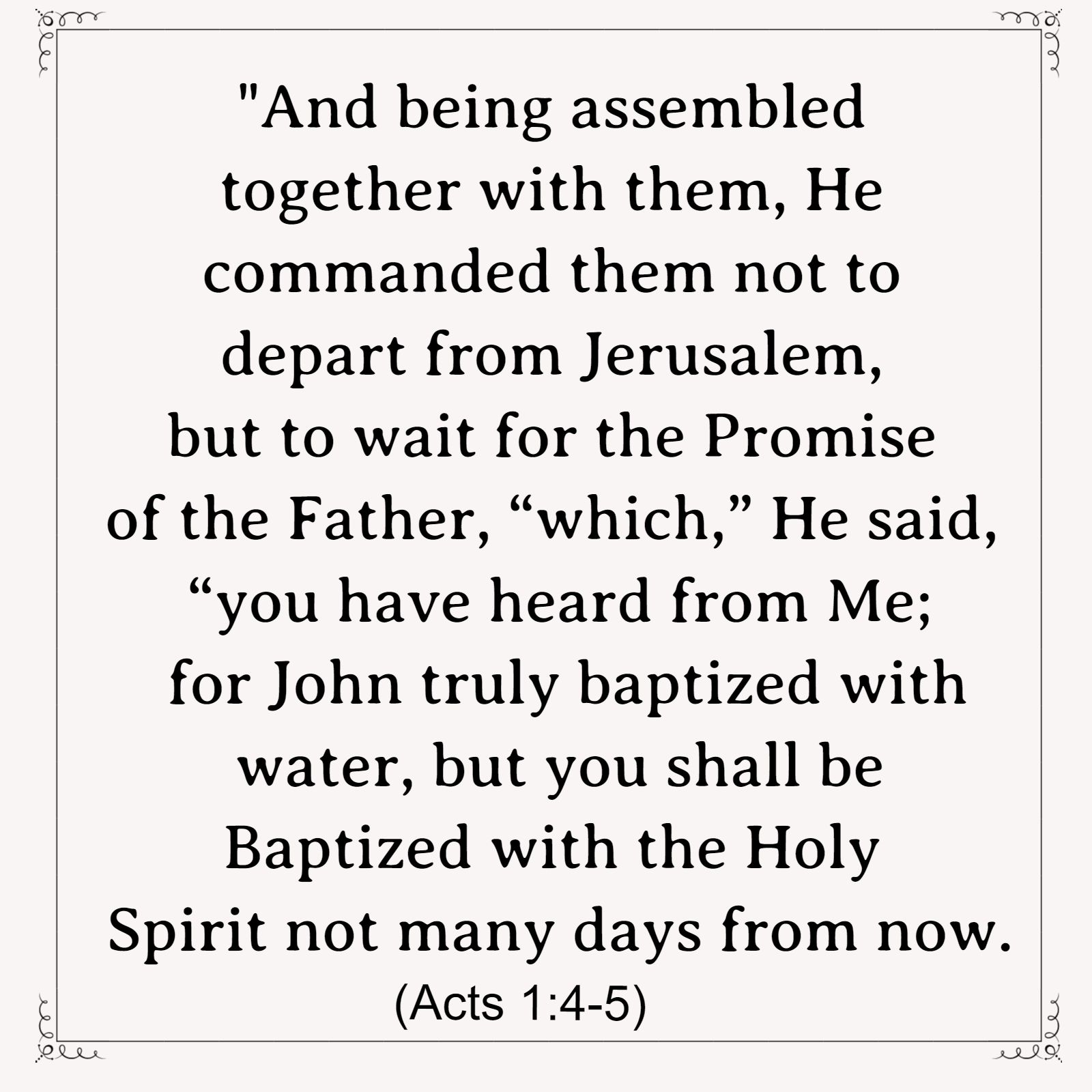 When Jesus gave His Great Commission (Matthew 28:19-20), He knew that His disciples could not fulfill it in their own power. Therefore, He had a special plan to give them the same power that He had - the power of the Holy Spirit.
Just after Jesus gave His disciples the Great Commission, He commanded them not to leave Jerusalem, but to wait for what the Father promised, "which," He said, "you heard of from Me; for John baptized with water, but you shall be baptized with the Holy Spirit not many days from now" (Acts 1:4-5).
He further promised: "You shall receive power when the Holy Spirit has come upon you; and you shall be My witnesses both in Jerusalem, and in all Judea and Samaria, and even to the remotest part of the earth" (Acts 1:8).
Jesus' final instruction to His disciples was to go out into all the world and preach the gospel (do ministry) in the power of the Holy Spirit:
And He said to them, "Go into all the world and preach the gospel to every creature. He who believes and is baptized will be saved; but he who does not believe will be condemned. And these signs will follow those who believe: In My name they will cast out demons; they will speak with new tongues; they will take up serpents; and if they drink anything deadly, it will by no means hurt them; they will lay hands on the sick, and they will recover." (Mark 16:15-18)
We are saved by grace through faith to do the good works of Jesus Christ. His Holy Spirit, the same spirit that created the heavens and the earth (Gen 1:2), dwells within every believer who has been Baptized by the Holy Spirit (Jn. 14:17).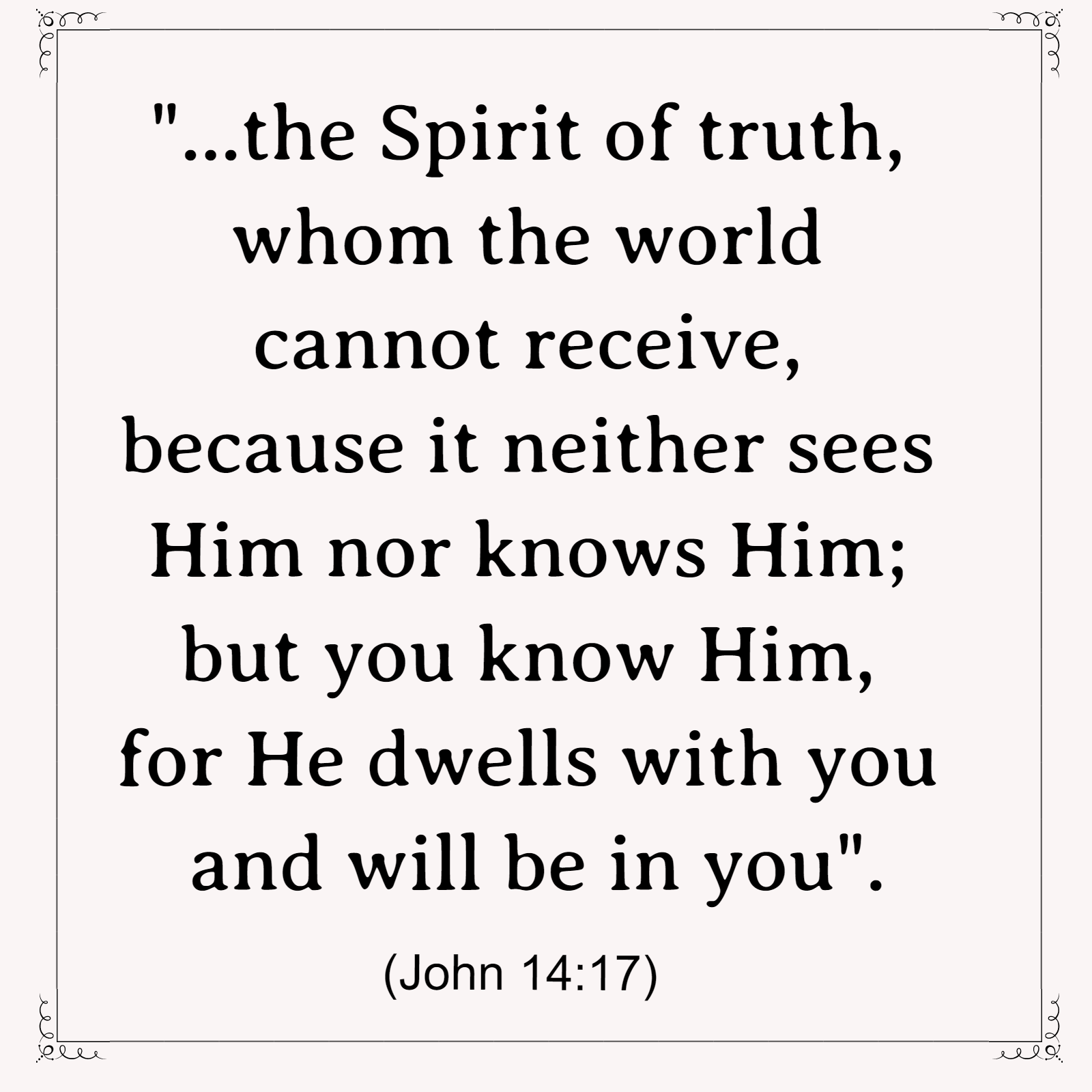 Jesus tells us that when He ascends into heaven to be with the Father, He will not leave us empty handed - He will send the Holy Spirit, the Spirit of Truth to be with us. The Holy Spirit cannot come unless He leaves:
"And I will pray the Father, and He will give you another Helper, that He may abide with you forever— the Spirit of truth, whom the world cannot receive, because it neither sees Him nor knows Him; but you know Him, for He dwells with you and will be in you. I will not leave you orphans; I will come to you. (John 14:15-18)
He also tells us that we will do greater works than Him:
"Most assuredly, I say to you, he who believes in Me, the works that I do he will do also; and greater works than these he will do, because I go to My Father. (Jn 14:12).
Did I receive the (Baptism of the) Holy Spirit when I am saved? Most people do not:
"And it happened, while Apollos was at Corinth, that Paul, having passed through the upper regions, came to Ephesus. And finding some disciples he said to them, "Did you receive the Holy Spirit when you believed? "
So they said to him, "We have not so much as heard whether there is a Holy Spirit." And he said to them, "Into what then were you baptized?" So they said, "Into John's baptism." Then Paul said, "John indeed baptized with a baptism of repentance, saying to the people that they should believe on Him who would come after him, that is, on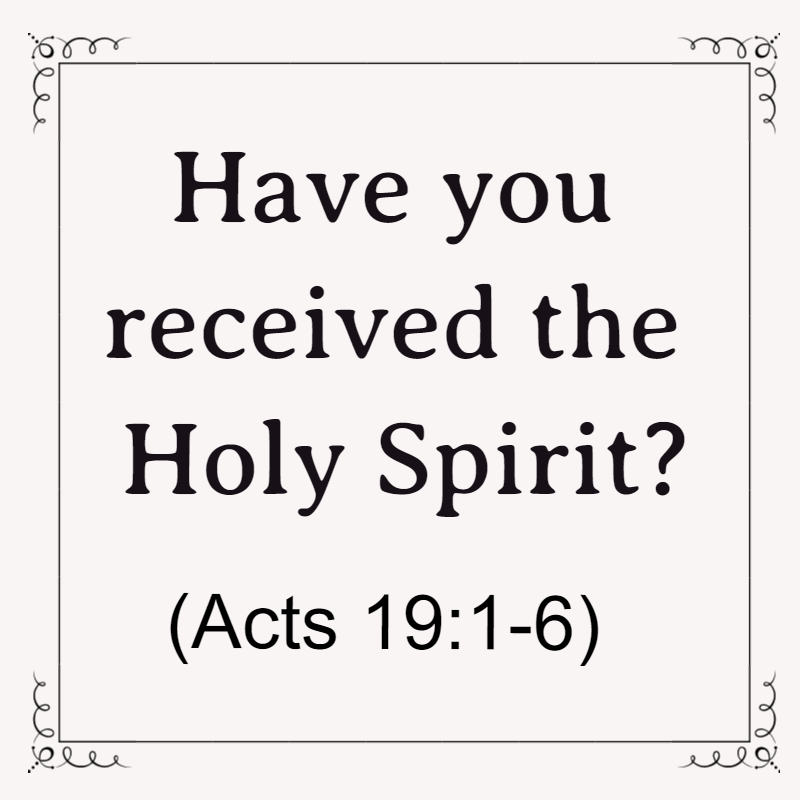 Christ Jesus." When they heard this, they were baptized in the name of the Lord Jesus. And when Paul had laid hands on them, the Holy Spirit came upon them, and they spoke with tongues and prophesied" (Acts 19:1-6).
The Baptism of the Holy Spirit is for today and for ALL who want Jesus' full Salvation package. In Acts 2, chapters 14 through to 21, Peter gave a sermon telling "what was spoken by the prophet Joel:"
"And it shall come to pass in the last days, says God,
That I will pour out of My (Holy) Spirit on all flesh;
Your sons and your daughters shall prophesy,
Your young men shall see visions,
Your old men shall dream dreams.
And on My menservants and on My maidservants
I will pour out My Spirit in those days;
And they shall prophesy.
I will show wonders in heaven above
And signs in the earth beneath:
Blood and fire and vapor of smoke.
The sun shall be turned into darkness,
And the moon into blood,
Before the coming of the great and awesome day of the Lord.
And it shall come to pass
That whoever calls on the name of the Lord
Shall be saved."
Amen.
---
If you would like to receive Salvation, the baptism of the Holy Spirit, gifts of the Holy Spirit, healing or encouragement, I invite you come to one of our house meetings or contact me and I would be happy to pray with you. Together lets testify about Jesus' grace to our family, friends, co-workers, acquaintances - anyone and everyone - tell them about the signs, wonders and miracles He has done in our lives!
Copyright © 2017. The Gordon Williams Evangelistic Association. All rights reserved.