POSTED |
October 21, 2022 - Rev. Gordon Williams
A Right Relationship with God
The Thirst for Righteousness
"Ho, every one who thirst, come to the waters; and he who has no money, come, buy and eat! (Isaiah 55:1-13)
There are some things money can't buy; there is a thirst that ordinary water, wine, milk, coffee or tea can't quench; and there is a hunger that meat and bread can't satisfy. That hunger and thirst is for "righteousness". Righteousness is the innate desire for a right relationship with God.
"Blessed are those who hunger and thirst for righteousness, for they shall be satisfied" (Matthew 5:6).
We can be satisfied only after we have had our hunger filled by Jesus who said, "I am the bread of life; he who comes to Me shall not hunger, and he who believes in Me shall never thirst" (John 6:35).
We cannot buy our way into eternal life with either money or good works. When we receive Salvation (bread) it is a gift. We only need to repent (meaning turn from our evil ways) and ask Jesus to forgive us for our sins (Luke 24:47; Romans 10:9), and receive living water when He Baptizes us with the Holy Spirit.
"Now on the last day, the great day of the feast, Jesus stood and cried out, saying, "If anyone is thirsty, let him come to Me and drink. He who believes in Me, as the Scripture said, 'From his innermost being will flow rivers of living water.'" But this He spoke of the Spirit, whom those who believed in Him were to receive; for the Spirit was not yet given, because Jesus was not yet glorified" (John 7:37-39)
"For I will pour out water on the thirsty land and streams on the dry ground; I will pour out My Spirit on your offspring and my blessing on your descendants..." (Isaiah 44:3)
There are many people who tell me that there is something missing in their life... They feel empty, void and are always looking to fill that empty space. Then when they are filled with the living water of the Holy Spirit, their soul delights in abundance.
We have an everlasting covenant with God, and we will glorify Him. (Genesis 26:5)
We begin to see that when God's Word goes out "it shall not return to Me (Him) empty... and it shall prosper in the thing for which I (He) sent it" (Isaiah 55:11).
And at the end of the day, we shall live in the fruit of the Holy Spirit: "love, joy, peace, patience, kindness, generosity, faithfulness, gentleness, self-control..." and no longer in condemnation (Galatians 5:22-23).
Prayer:
Holy Spirit, please give me springs of living waters that alone can satisfy.
---
Excerpt from Rev. Gordon Williams', "SPIRIT-LED DAYS - DAY BY DAY WITH THE HOLY SPIRIT.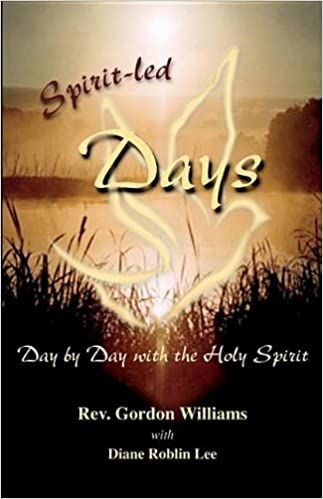 SPIRIT-LED DAYS - DAY BY DAY WITH THE HOLY SPIRIT
Rev. Gordon Williams has written one of the most inspirational, detailed and theologically sound studies on the Holy Spirit in years. Using a daily devotional format, the reader is led step-by-step, day-by-day, into a study of what the entire scriptures reveal about the "person" of the Holy Spirit. This book has also been written to help the reader grow in intimate knowledge and daily fellowship with God.
Click here to order your copy.
Copyright © 2022. The Gordon Williams Evangelistic Association. All rights reserved.