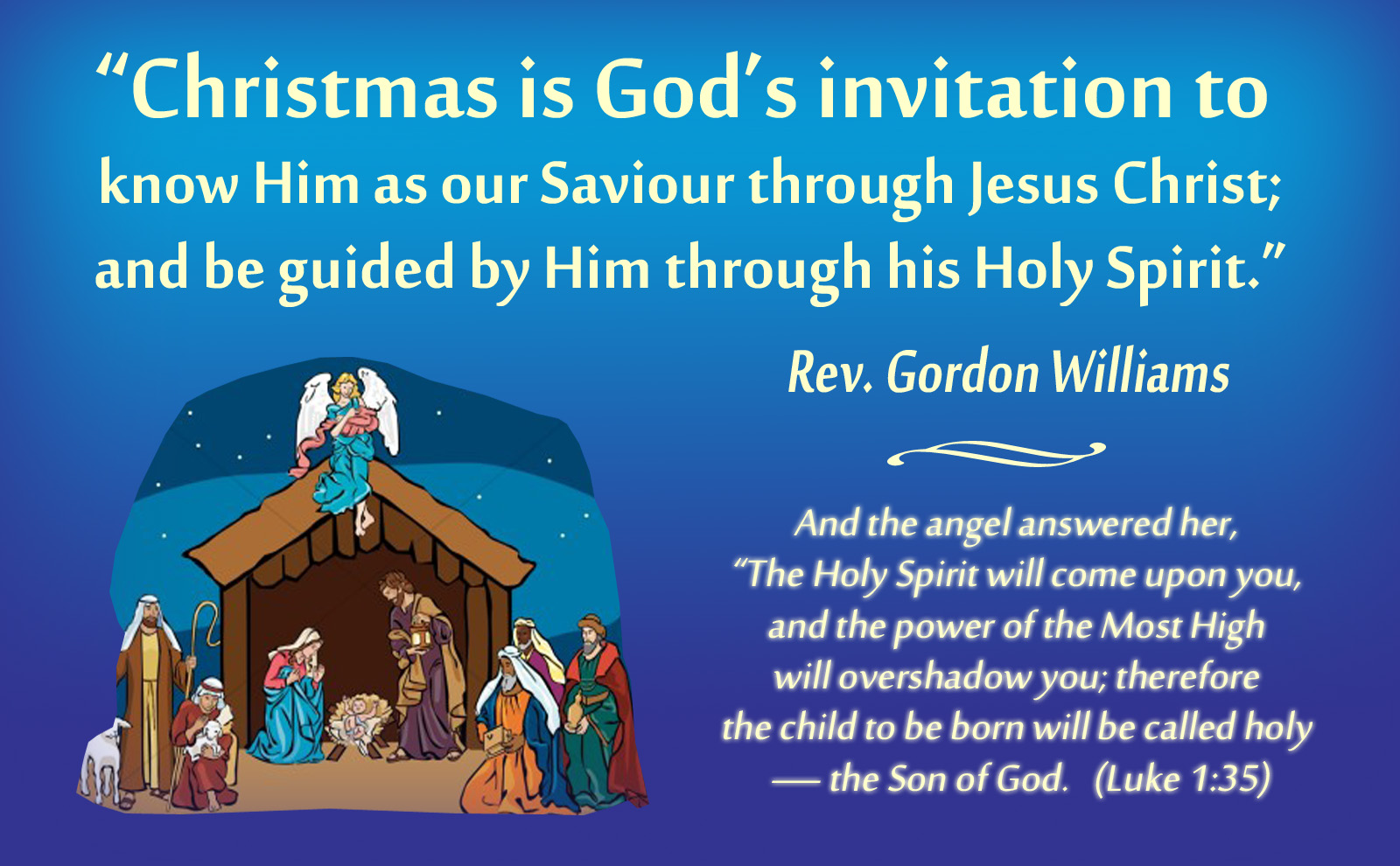 "CHRISTMAS IS GOD'S WAY OF OFFERING US ETERNAL LIFE" (JN.3:16-17)
Jesus did not come into the world to save the rich and the famous. He came into the world to offer us Eternal Life which is not a reward for the good things we do or for our achievements. This was the shocking reality that faced the wealthy and rich who came to see him. They thought that Jesus would be very impressed with their worldly success. They asked, as many people ask today, "Teacher, what good thing must I do to inherit eternal life? (Matt. 19: 16). They and we are shocked when Jesus told them all, and us also, "If you would be perfect, go, sell what you possess and give to the poor, and you will have treasure in heaven; and come and follow me" (Matt. 19: 21).
For you see, the real treasure we are looking for is Jesus Himself. Jesus explained this when He said,
"And this is eternal life, that they know You the only true God and Jesus Christ whom You have sent"
(Jn.17:3)

. Everybody regardless of age can know Jesus personally and do whatever He tells us to do

(Jn.2:5)

. "Christmas is God's invitation to know Him as our Saviour through Jesus Christ; and be guided by Him through his Holy Spirit."
This is the reason why we can invite you to send your needs: personal, family, acquaintances, Salvation, the Baptism of
the Holy Spirit, business difficulties, church requirements, etc. to us so we can continue to pray for you!
"HELP US TO SHARE CHRISTMAS" (MATT.2:1-11)
Every Christmas, as well as throughout the year, we receive requests from people on behalf of others who need help. Their problems are often a result of sickness, loss of jobs, unemployment and other reasons. The result is that they cannot afford to celebrate Christmas. Since we have started our "Share Christmas Program", you have been able to meet the requests to help people they know: friends, family members, children, senior citizens, relatives, acquaintances - all who need to have the love of Jesus shared with them. We believe that they are sent to us by Jesus for us to show our "generosity" (Matt, 20: 15) to Him

(Matt.25:40 & 46)

. We ask you to pray and ask Jesus what you should do in addition to your monthly support for this special Christian Ministry called "alms giving"

(Acts.10:4)

. Join us to help Jesus help those who cannot help themselves and lead them to Jesus as we celebrate His birthday.
"
HELP PUT SALVATION BACK INTO CHRISTMAS" (LK. 2:11)
More and more people are asking, because of the massive advertising, "What has this Santa Clause to do with religion?" The story of how a Christian Bishop has been changed into a god-like person who can fly in a sleigh pulled by 8 or 9 flying reindeer to every household in the world on one night has become more of a fairy tale than most people can imagine. Never in the past years would we have guessed that Christmas has become the biggest retail marketing business in the year! Most people when they give gifts never even think of, or mention, the Christmas Story which tells us about our God who became "flesh and dwelt amongst us"

(Jn.3:14)

so He could give salvation and a personal relationship to all of his people. It is no wonder that Jesus has become lost in the renamed "Holiday Season". However, as strange as this may seem, when we preach the Gospel and offer people Salvation and a personal relationship with our God people respond because there is no one else in the whole world of religions and cults that can satisfy what Jesus calls "the hunger and thirst for righteousness"

(Matt.5:6)

.
It is still what Paul called "the foolishness of preaching" by which God still uses to save those who are to believe. It is still amazing that Jesus is able to draw men, women and children to Himself when we preach the Gospel or witness to them about what God has done for us. During this year, 2014, we have seen more ministry and more salvations, healings, Baptisms of the Holy Spirit, deliverance and needs met than in any previous year. This has been possible because of your prayerful and financial support.
Because we do not set any fees for our ministry, I am able to accept invitations from any church regardless of size or location. Please pray and ask Jesus what you can give to help us with our ministry.
To make a financial contribution, you can donate online using our secure "Pay Pal" cart on our web site which requires a credit card. Mailed cheque donations should be made out to "The Gordon Williams Evangelistic Ass'n" or "G.W.E.A".
Also please let us know when Jesus has met your needs

(Philip. 4: 19)

so we can also thank and praise Him along with you! Have a "Merry and blessed Christmas!"
In Jesus' name, Rev. Gordon Williams
"

THE LADY RECEIVED HER MIRACLE" (GAL.3:5)
At the Prayer Palace, Toronto, ON an 80 year old woman hobbled up to the altar with some difficulty using two canes, for prayer. She explained, "I have arthritis in my legs and it's hard to walk. I need a miracle. Do you think Jesus would heal me?" I said, "I don't know but let's ask Him. But first, have you received the Baptism of the Holy Spirit yet?" "Of course and I speak in tongues," she answered. I laid hands on her and she prayed along with me in tongues and fell to the floor. She jumped up holding her canes in the air and said, "I'm healed! Jesus healed me!"
"

THERE IS NOTHING THERE! JESUS HEALED ME!"
(1 PET. 4: 23)
"On October 23rd I awoke with a ping pong ball sized lump on my thyroid. I went to the hospital in Port Perry and had it drained with a needle biopsy, the results to which were 'inclusive'. An ultrasound revealed a solid mass and a thyroid full of lesions. I went to Lakeridge, Oshawa on Dec 20th for another needle biopsy from 3 areas done under ultrasound. That Doctor also mentioned the solid component sand lesions. The results to this were also inconclusive.
On Feb 19th I went to Princess Margaret to see a thyroid specialist who diagnosed a thyroid nodule and scheduled surgery to remove half of my thyroid on July 15th. I didn't want to go this route but my sister-in-law had a thyroid nodule 20 years ago and had her thyroid removed and it was cancerous. On May 31st I went to Living Water Church to hear Gordon Williams because he prayed fo me to receive the Holy Spirit 5 years ago and I was immediately filled, with speaking in tongues that continued in my spirit night and day for at least two years. Listed on the screen at the front were his ministry gifts which included healing. I was pleasantly surprised and did not know that he had prayed for Don Carter to be healed about 6 years ago and God healed Don at that time. Gordon began by explaining the 'gifts of the Spirit' and mentioned a "word of knowledge', which he has. He then said, 'There is someone here tonight with a thyroid problem'. That is all he said and did not mention any other ailments. There were not many people at the meeting - about 40. I went for prayer and was prayed for. I felt nothing and there was no change in my thyroid.....so I made an appointment with my Dr. for June 15th. By the time of this appointment my thyroid had shrunk in size an felt normal to me.
He agreed and I went for another ultrasound the next day....There is nothing there. Jesus healed me."
"A CHRISTMAS GIFT" (1 PET. 2:4)
At a meeting in Sault Ste Marie, ON, a young married couple who came for prayer explained, "After tests, my doctor said that I can never have babies because of a childhood disease." I explained that the Scripture tells us
that God can heal all of our diseases. I prayed with both of them for forgiveness and the Baptism of the Holy Spirit so they could have a baby. They both received the Gift of Tongues.
They called to let me know that their Christmas Gift is a going to
be a baby boy!
"WE DELIVER CHRISTMAS GIFTS THROUGHOUT THE YEAR" (HEB. 2:4)
While in Ecuador a good friend of my interpreter came forward along with his wife and 20 year old son. When they came forward, I asked him, "What would you like to have prayer for?" He replied, "I'm not sure! I have been born again." I asked him, "Have you received the Baptism of the Holy Spirit with the evidence of speaking om tongues?" He answered, "No! It's a matter of timing. It hasn't been my time yet." I explained to him, "That is never the problem. Paul wrote, "Behold, now is the acceptable time, behold, now is the day of salvation"

(2 Cor. 6: 2

). Now, is the acceptable time and place." He agreed and received the Baptism of the Holy Spirit and through tears of joy he fell to the floor speaking in his new language

(Acts 2: 4

). Then both his wife and son received the Baptism of the Holy Spirit with the evidence of speaking in tongues.
"

SET FREE FROM AN EVIL SPIRIT" (MK 16:
17)
At Carrick Camp, a woman in her 40's explained to me, "I am a schizophrenic and have been one for 15 years. I want to get better." I asked her if she had ever invited Jesus to be her Saviour and she said, "Yes!" I asked her if she had ever received the Baptism of the Holy Spirit. As we talked, I noticed that her body began to shake. I explained that she needed the Baptism of the Holy Spirit so she could be better and healed from within. She objected, "I'm a Roman Catholic! I don't think that this is for me." I explained that the Holy Spirit is for everybody. So, she agreed. I took authority over her and I commanded any spirit that was not of Jesus to leave her body and go to the Abyss

(Lk. 8: 31)

. The shaking stopped. Then we prayed for forgiveness and to receive the Holy Spirit and she began to speak in tongues.