"LIKE A RUSHING MIGHTY WIND" E-NEWSLETTER SUBSCRIPTION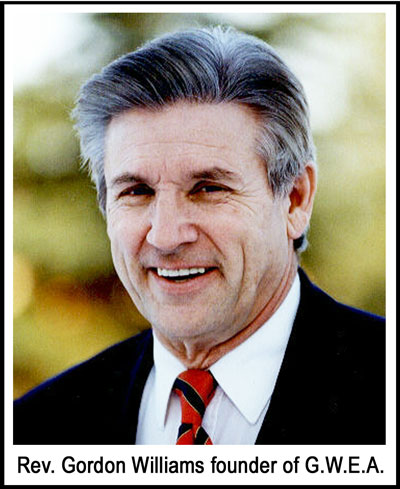 The GWEA's Holy Spirit ministry helps to "prepare the Saints" for a exciting relationship with Jesus and for their own ministries. For over fifty years, our founder, Rev. Williams has been successfully ministering and teaching on the Holy Spirit. More than ever, the GWEA remains committed to carrying on Gordon's original vision to "equip the saints for the work of ministry." We need Spirit-let Christians who are committed and compelled to following the Holy Spirit's leading in their lives to effectively reach people for Jesus Christ.
Be encouraged by our GWEA ministry messages, teachings, reports and answered prayers for healing and the reconciliation of many who have been touched by our ministry.
You too can read about true life stories of God's intervention into people's lives and testimonies of our weekly ministry meetings and outreaches throughout the world.
Please complete the contact form below to receive our Monthly E-Newsletter about valuable Holy Spirit teachings, exciting ministry news, messages, reports, testimonies and information about upcoming House Churches, Miracle Meetings and Services.
---