POSTED |
Rev. Gordon Williams
Did I get the Holy Spirit when I got Saved?
The Holy Spirit and Salvation.
Whenever such questions arise, it is necessary to go straight to Scripture for the answer. Acts 19:1-6 details an encounter Paul had with some disciples who had received salvation but had not received the Holy Spirit.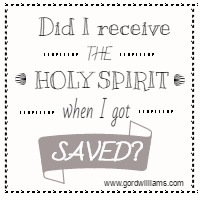 "Paul took the road through the interior and arrived at Ephesus. There he found some disciples and asked them, 'Did you receive the Holy Spirit when you believed?' They answered, 'No, we have not even heard that there is a Holy Spirit.' So Paul asked, 'Then what baptism did you receive?' 'John's baptism,' they replied. Paul said, 'John's baptism was a baptism of repentance. He told the people to believe in the one coming after him, this is, in Jesus.' On hearing this, they were baptized into the name of the Lord Jesus. When Paul placed his hands on them, the Holy Spirit came on them, and they spoke in tongues and prophesied. There were about twelve men in all" (Acts 19:1-7).
We can conclude that receiving Salvation does not guarantee receiving the Holy Spirit when a person beliefs. In this case, it was a second step.
The Billy Graham Association has published statistics that show that 80% of the people converted in their meetings fall away from Christianity. While Billy Graham is most likely the world's greatest evangelist, his ministry is strictly to preach the Salvation message - and not to invite people to receive the baptism in the Holy Spirit.
On the other hand, statistics that I researched and compiled on Holy Spirit ministries (which proclaim Jesus' exhortation to receive the Holy Spirit), show that 80% of people who do so concurrent with or following salvation, continue to grow in a relationship with Jesus Christ.
While it is not a guarantee to experience the empowering of the Holy Spirit at the time of salvation, it is important to go on and receive Him in order to have "staying power" in the Kingdom and to do effective ministry.
"Do not neglect the gift you have, which was given you by prophecy when the council of elders laid their hands on you. Practice these things, immerse yourself in them, so that all may see your progress" (1 Timothy 4:14-15).
---
LIKE A MIGHTY RUSHING WIND
Practical and important Christian teaching highlighting the Baptism of the Holy Spirit and the 9 Gifts of the Holy Spirit as outlined in the Book of Corinthians. This is a book with solid answers to the deepest spiritual questions. One of the most comprehensive works on the ministry of the Holy Spirit, this is a practical guide to finding the ultimate fulfillment in the Christian life.
Click here to order your copy.
Copyright © 2016. The Gordon Williams Evangelistic Association. All rights reserved.