POSTED |
Rev. Gordon Williams
The Holy Spirit is for Today.
Hebrews 13:8
A 50 year old woman came to me and said, "I wanted to go to another church to receive the Baptism of the Holy Spirit, and my Pastor said it was not for today."
"Your Pastor is wrong, I answered! I told her what Peter had said,

"Repent, and let every one of you be baptized in the name of Jesus Christ for the remission of sins; and you shall receive the gift of the Holy Spirit

" (Acts 2:38). She listened and then remained silent, unsure of what to say next.
I then asked her, "Are you ready to receive the Baptism of the Holy Spirit with the evidence of speaking in tongues?" "Yes please," she was quick to answer.
She prayed along with me as I led in prayer. After several minutes she spoke out with her new tongues language with fluency and ease. Praise the Lord!
Later she came to tell me and told me that her Pastor was wrong! I agreed, and suggested that she make a change to a new Pastor who believes (Mark 16:15-17).
"Jesus Christ is the same yesterday, and today, and forever" (Heb. 13:8)
---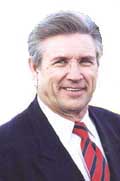 If you, your family and/or friends would like to receive either Salvation, the Baptism of the Holy Spirit, a Gift of the Holy Spirit, Healing, Deliverance, etc., I invite you come to one of our house meetings or

contact me.

May God bless you richly with His Spirit!

Copyright © 2017. The Gordon Williams Evangelistic Association. All rights reserved.